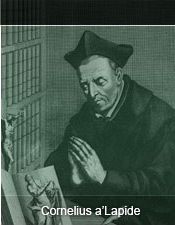 Home »

Members
Members-only access to Loreto's a Lapide Project
This site will feature a complete online edition of Cornelius a'Lapide's Commentary on the Four Gospels.
If you purchased the set before February 1st, you have free access to this website. To activate your account, enter your four-digit invoice number from the invoice that was mailed to you, not from the website, and use the password "presale". You will then be prompted to update your account information, and change your username and password. Once you have done this, you can use the authentication form that is on every other page of this site. This form is for first time activation only.
---
If you purchased the set after February 1st, you can buy access to the online edition for an additional $10. If you wish only to purchase access to the online edition, the price is $40.
Click here to purchase now!